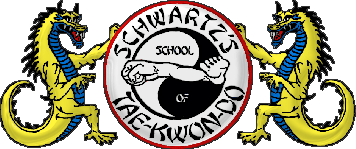 Month" two months in a row; and he was also the first student to be honored as "Student of the Year" in 1997. Adam earned "Student of the Month" honors a record nine (9) times. Now, over 10 years later that record still stands!

Adam earned his 1st Degree Black Belt on March 25, 2000 and became the first student to achieve a perfect score (5.0) on his Black Belt test. Adam attributes his success to having a superb instructor and an excellent training partner (Joshua Schwartz).

Currently, Adam is finishing his Bachelor's degree in Marketing at Penn State University and is looking forward to a challenging career in the business world.

"My years as a student at Schwartz's School of Tae-Kwon-Do have positively influenced my personal character and my confidence. Karate has helped me become more aware of my surroundings and it has taught me to lead by influence, not arrogance. I'm very proud to have trained under Mr. Schwartz. He taught me discipline, restraint, and leadership, as well as the physical aspects of martial arts."  

                                                                                               ~  Adam Closkey ~

Adam Closkey can be contacted by email at:  adamcloskey@gmail.com

Serving Scottdale and surrounding communities since 1993!

Adam Closkey started his martial arts training at Schwartz's School of Tae-Kwon-Do in November, 1994, when he was 7 years old. Initially, Adam and his younger brother Shane began studying Tae-Kwon-Do to learn self defense. The conditioning also proved to be very beneficial to Adam's flexibility and strength, which helped him in his motocross racing career as a youngster. As Adam progressed through each rank, he achieved a number of firsts: Adam became the first student in the school to achieve a black belt with no double promotions or belt rank exemptions; he was the first student to be selected as "Student of the